A new coziness in the bathroom
Comfortable bathroom with warm wood and individual accessories
In this light and airy bathroom design the wood helps to create a warm atmosphere. The sink, made of sturdy pine, perfectly sets the stage for white bathroom ceramics and elegant faucets. The vibrant structure of wood mitigates the industrial look of exposed concrete and rough-plastered surfaces. The natural material makes the bathroom an individual oasis of wellness.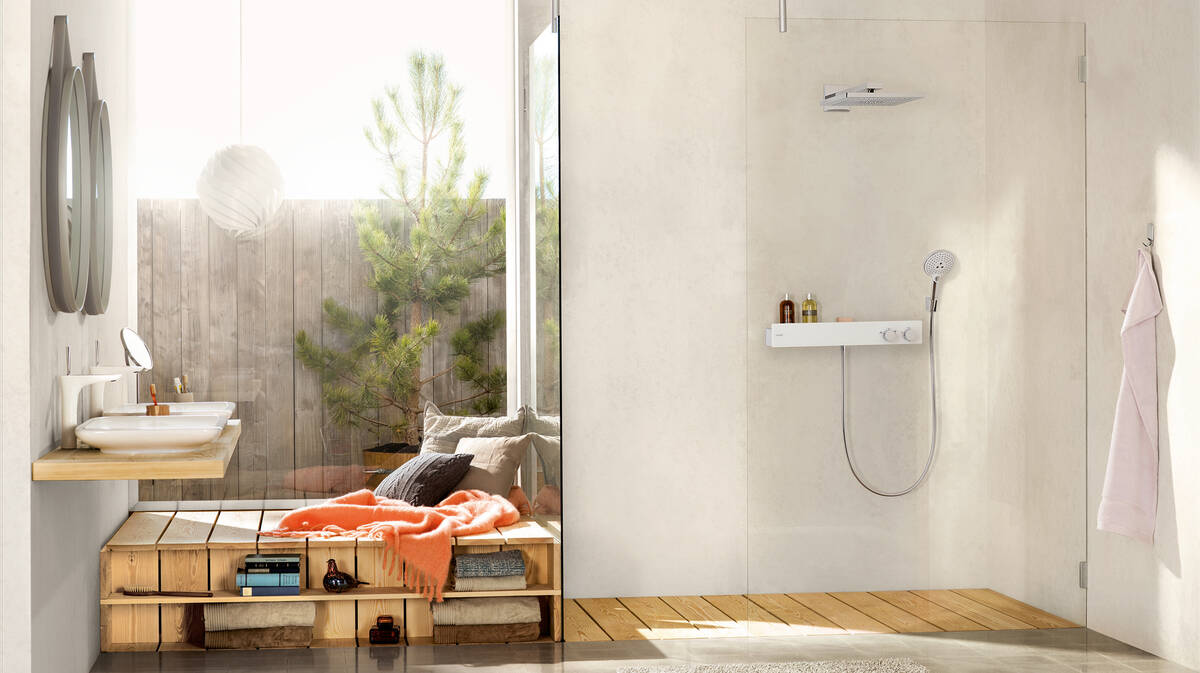 +2
Everything on the watch list
Product noted
Product saved for 30 daysSee Wish List
The product could not be saved. Please try again.
Dream bathroom: Cozy design with wood
Creative bathroom ideas and harmoniously coordinated design in a cozy bathroom
Would you like a bathroom/living space with a spacious area that serves as your private oasis of wellness? Then use wood, fabrics and individual decorative elements to create a comfortable bathroom with inviting decorative elements. A spacious floor plan permits spatial separation of the functional area, containing toilet and bidet, from the well-being area with bath tub, shower and sink. In addition to water enjoyment, a comfortable retreat with seating and recliners invites users into the relaxation zone. Wood offers you ideal conditions for a creative bathroom design: The natural flair of wooden floor planks warms the ambiance. Installing low-rise platforms varies room levels and creates a seating area where users can spend time. This is a wonderful place to unwind.
Designer faucets and bathroom ceramics placed in the right lighting
Large windows or access to a garden or terrace broaden the perspective of the bathroom/living space. In rooms without adequate sunlight, individually planned lighting creates the desired atmosphere. Optimal lighting skillfully distinguishes the lines of the elegant ceramics and the white-chrome finish of our exclusive faucets . With their sensual design, the PuraVida faucets by hansgrohe harmoniously fit into the setting. The spacious shower system places water enjoyment at the center of the space.
Authorised dealers
Locate showrooms of authorized dealers near you
hansgrohe Loading Dealer Options
An error has occurred. Please refresh the page.
Your search covers: USA and Canada