Care and maintenance of the kitchen faucet
This is how to get your faucet sparkling clean again in an instant
Kitchen faucets are often exposed to heat and cold as well as alkalis, fats or acids. This is why hansgrohe manufactures high-quality faucets that retain their function, design and shine for many years to come, without time-consuming care. Use the care tips shown to continue enjoying your faucet for many years to come. Just clean it now and then and free it from limescale!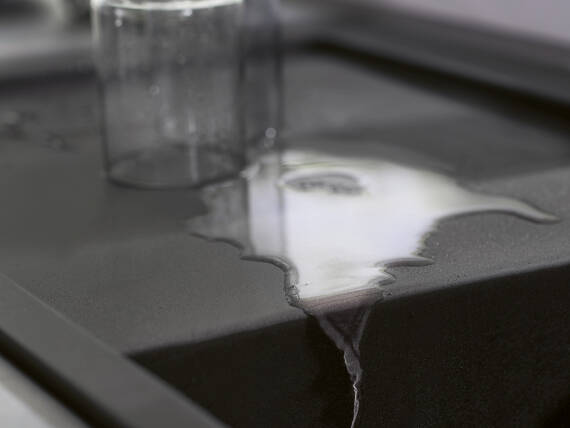 The best materials for kitchen faucets and sinks: Chrome and stainless-steel look
Depending on the variant, our kitchen faucets are characterized by high-quality, shiny chrome plating or a durable stainless-steel look. Both materials stand for durability and make cleaning easier. Cared for with the right method and good cleansers, you can keep the wonderful shine for a long time to come. Whether chrome or stainless steel: It still pays to take a few basic rules to heart when cleaning.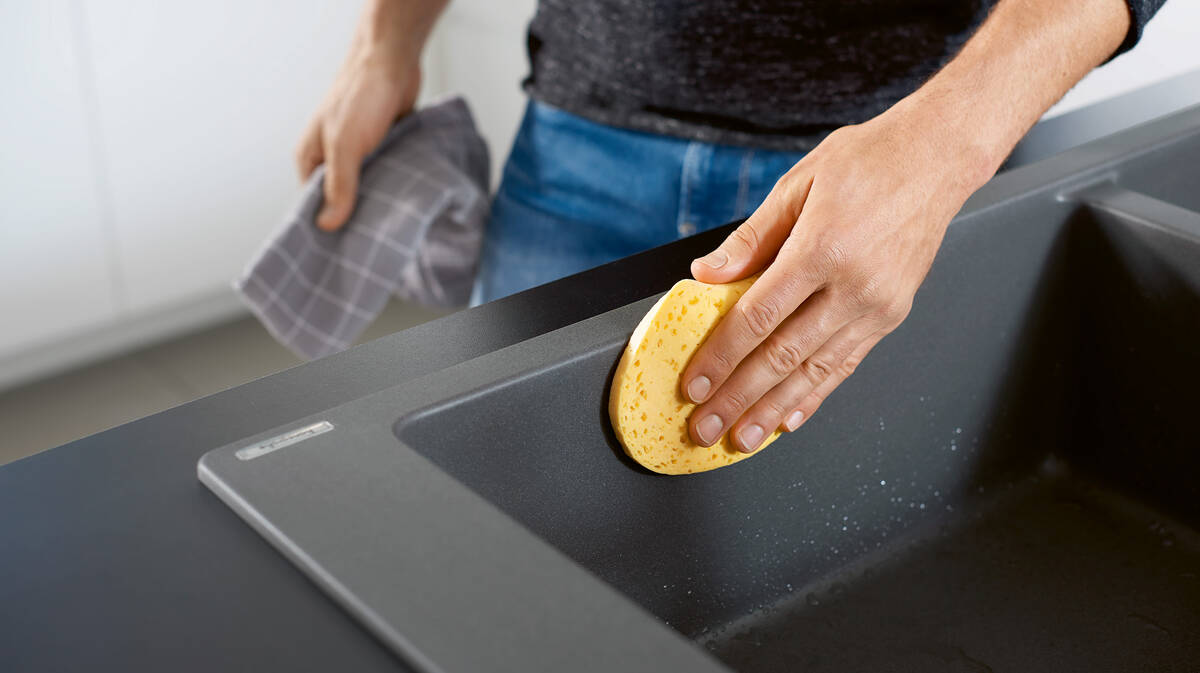 Here's how to properly care for your kitchen faucet
Do not clean your faucet with aggressive cleaning agents that contain ingredients such as chlorine bleach, formic acid, acetic or hydrochloric acid. Also, avoid abrasive cleaning agents and sponges.
Never spray the kitchen faucet directly with a cleaning agent and do not mix different products with each other. Please observe the manufacturer's care recommendations in terms of dosage and exposure time. 
The best way to remove limescale from the kitchen faucet is to use a citric acid-based cleaning agent. To do this, first apply the cleaning agent to a soft, lint-free cotton cloth, and wipe the faucet with this. Then leave the cleaning agent in place for the specified time before finally removing it thoroughly with clear water.
Finally, simply rub the faucet with a dry cloth. All residues are now removed, and it is shining like new once again.
Properly eliminating limescale deposits can prevent lots of annoying consequential damage because limescale is not just aesthetically problematic, it can also impair functions, such as the spray pattern.
Correctly cleaning the faucet is quick and easy to do. The pull-out hose of your kitchen faucet is also easy to clean and, if need be, replaced (instructions are included with each spare part). Please observe our cleaning recommendations, because damage due to improper handling is not covered under our warranty.
HGHBWMediaGalleryImageElementComponentModel (8802059551804@3)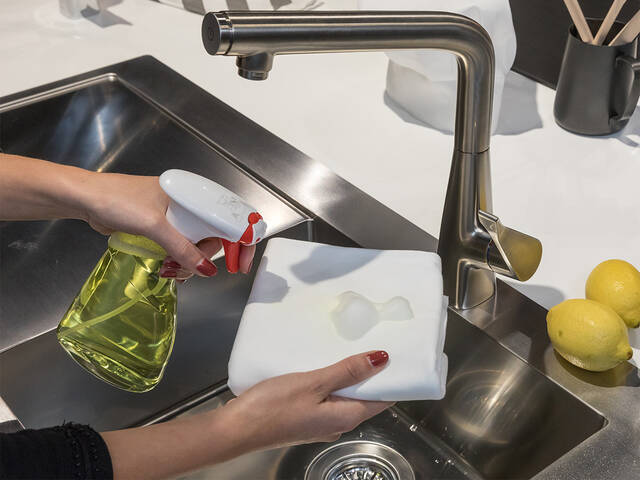 HGHBWMediaGalleryImageElementComponentModel (8802059584572@3)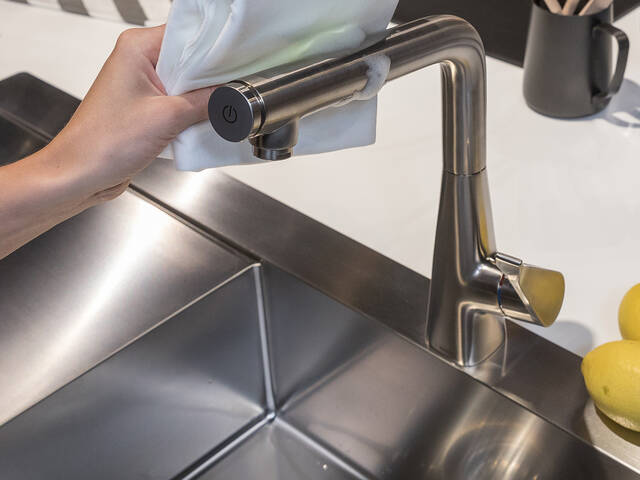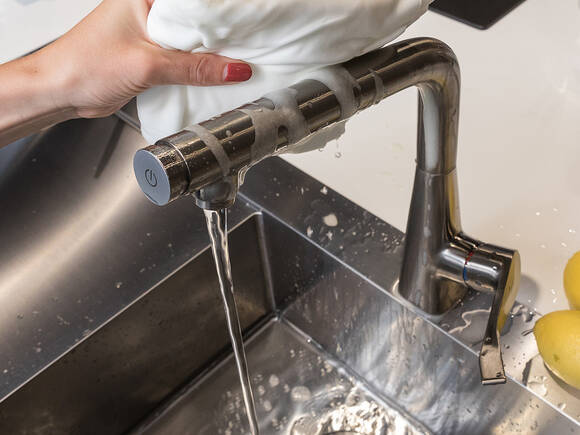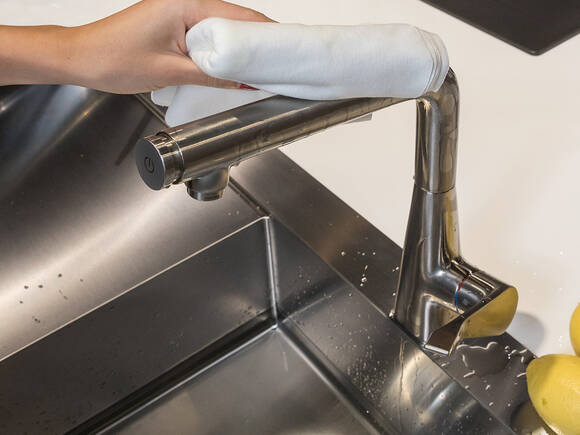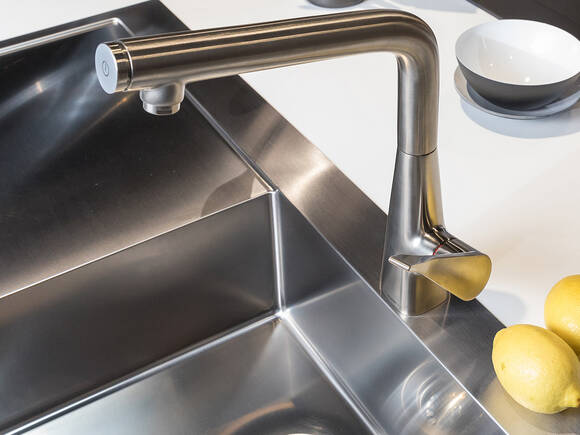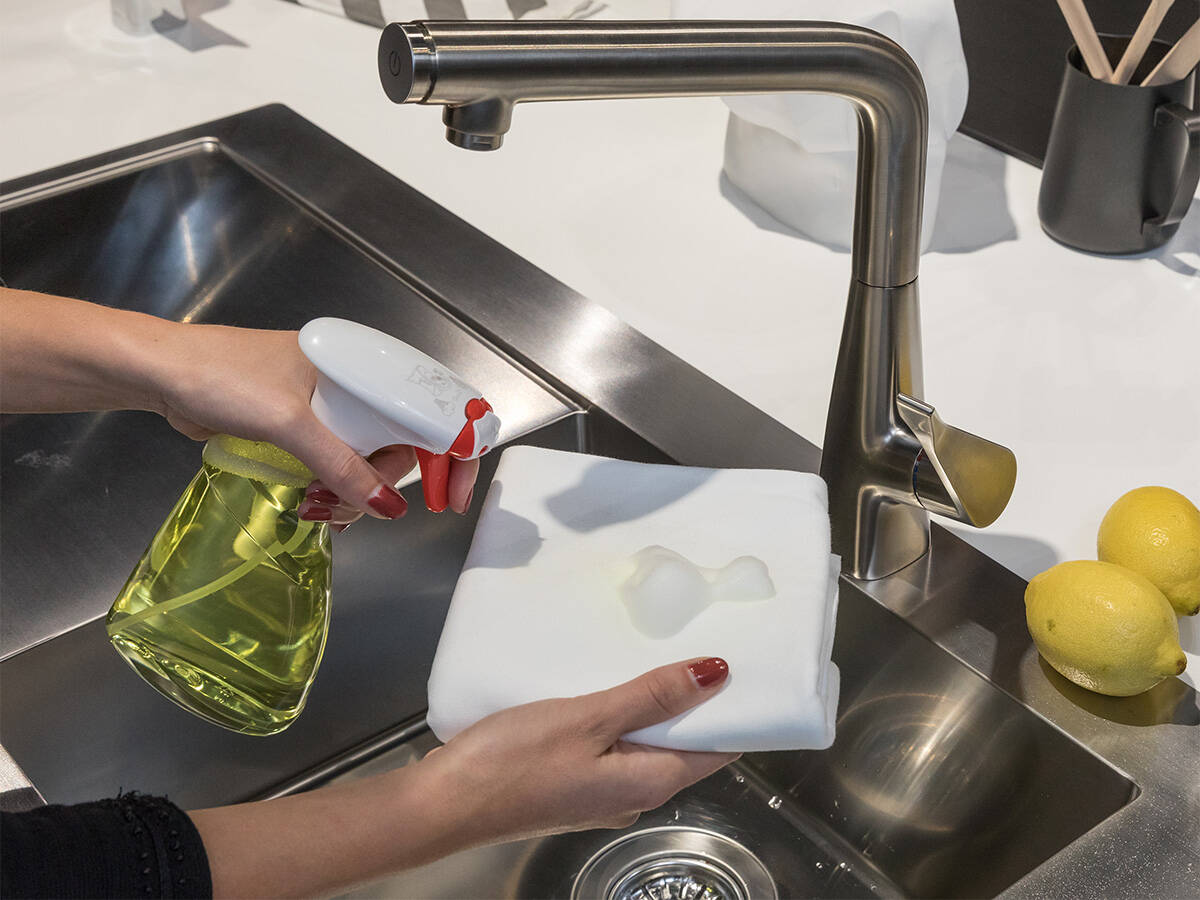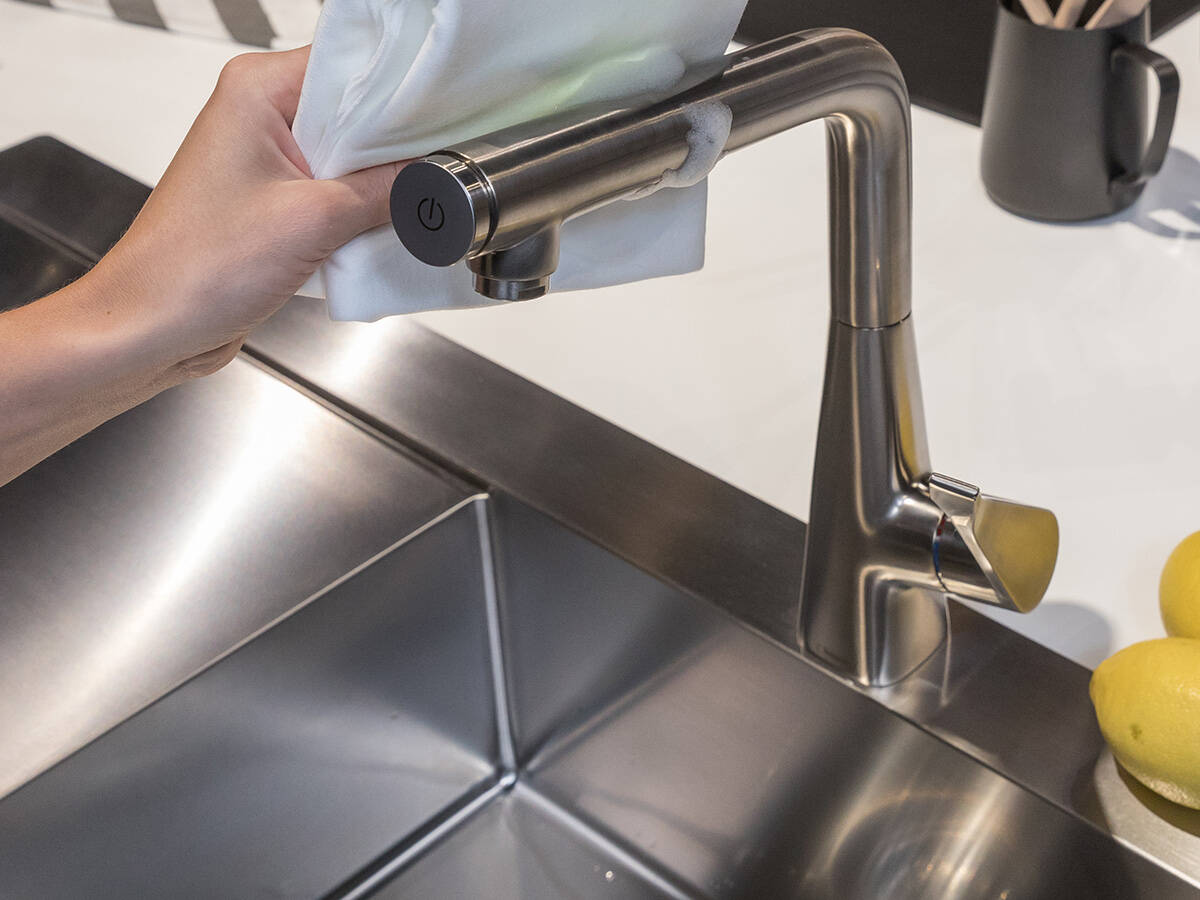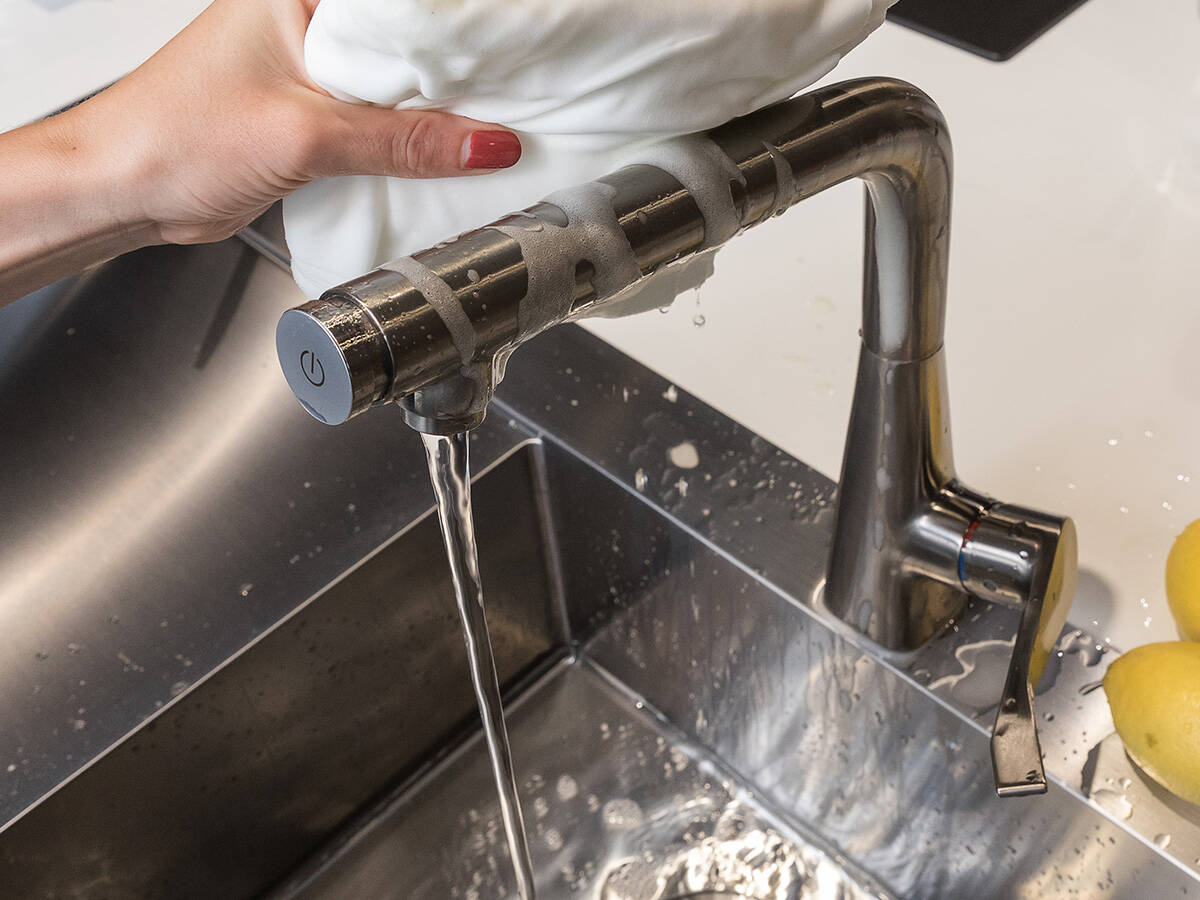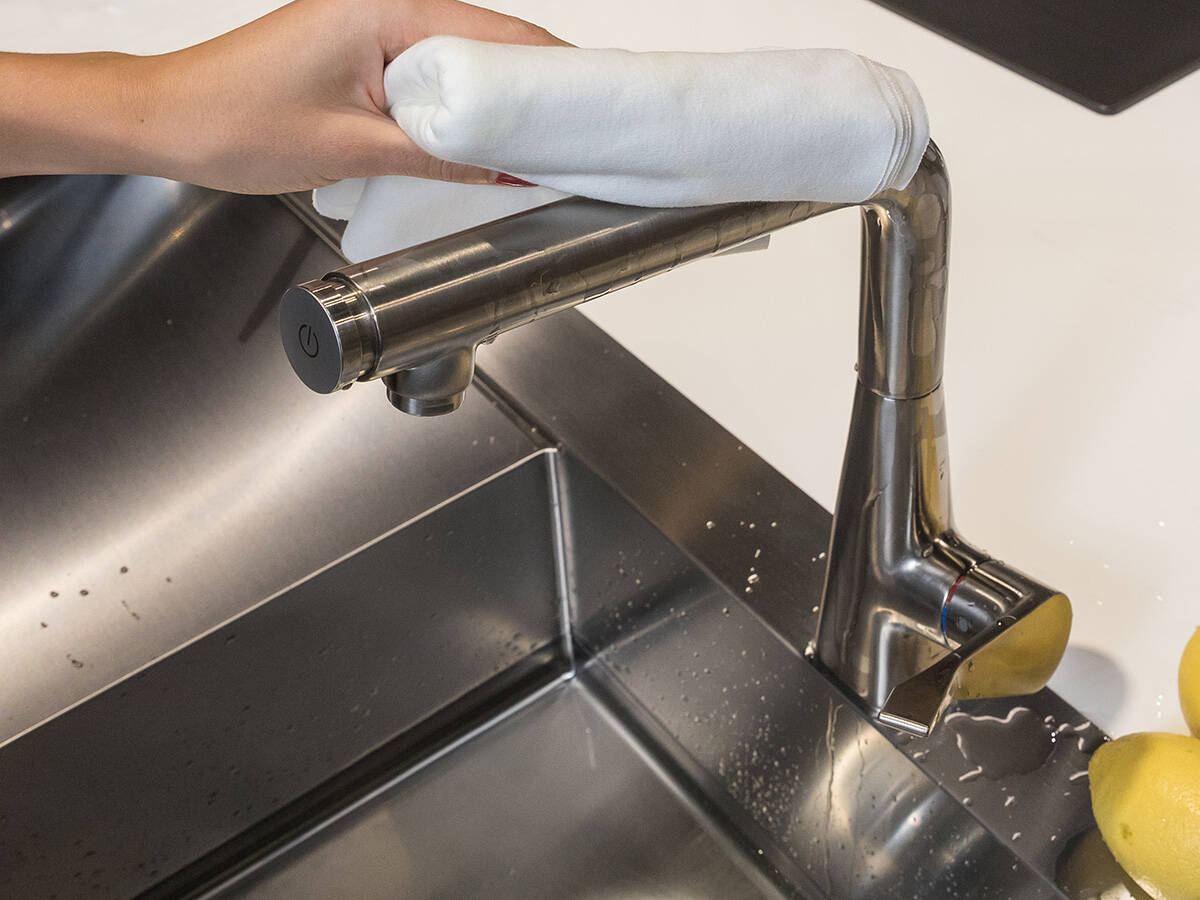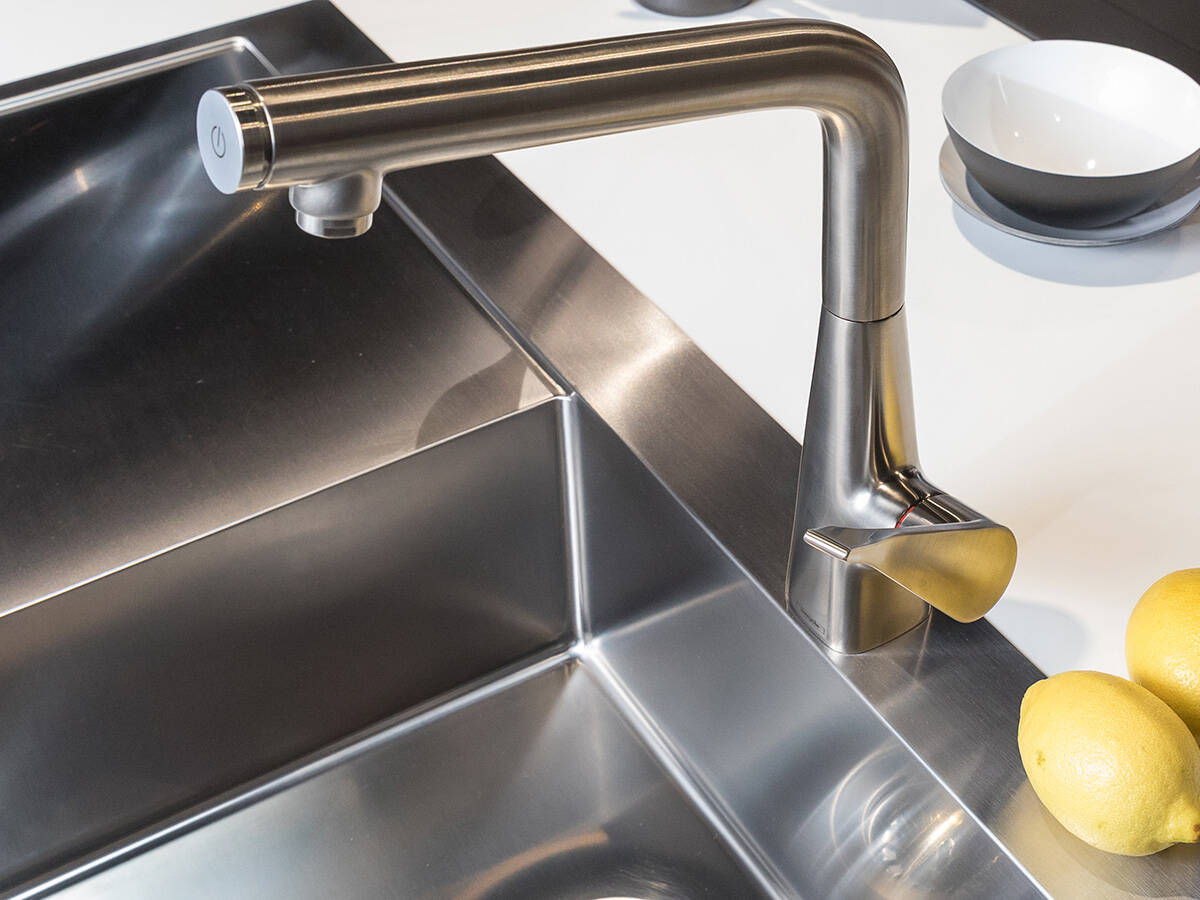 Residue-free cleanliness of the aerator
The aerator is also known as a perlator, jet regulator or spray insert. This is the nozzle located at the faucet spout. Many of the aerators on hansgrohe faucets are equipped with anti-limescale function (QuickClean). They can be cleaned without additional cleaning agents: by hand.
Brief rubbing is all it takes to effortlessly remove limescale residue
A hansgrohe kitchen faucet with QuickClean technology features flexible silicone nozzles on the aerator. Limescale deposits accumulate here over the course of everyday use (in greater or lesser quantities, depending on water hardness). These are a breeze to remove: Simply rub your finger over the silicone nozzles. The water will then flow uniformly and fully from the aerator once again.
Cleaning the aerator, enjoying a beautiful spray pattern
If a more involved cleaning of the aerator should be required, unscrew it and place it in a container with decalcifying citric acid-based cleaning agent. After a maximum of 10 minutes, you can remove it and rinse thoroughly under clear water. Repeat the cleaning as necessary, and then you can screw the aerator back in place on your kitchen faucet. 
Authorised dealers
Locate showrooms of authorized dealers near you
hansgrohe Loading Dealer Options
An error has occurred. Please refresh the page.
Your search covers: USA and Canada