Product advice for shower & bathtub
Here's how to find the right shower hose
It can be easy to lose track of things when looking for a shower hose. What is the optimum length, which connections and surfaces are suitable for existing faucets and showers? Here you can find out what harmonizes, holds, works – and how the models differ. When you buy a shower hose, please also consider your health and choose a shower hose that is standardized for drinking water.
It's best not to skimp on quality, comfort, and design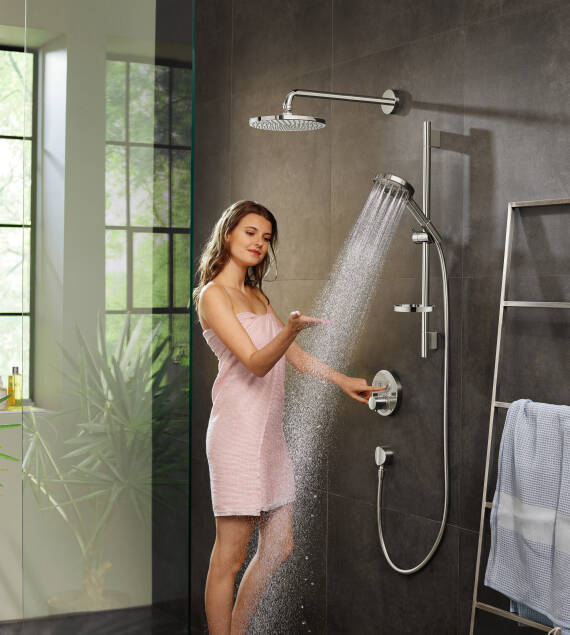 There is an abundance of shower hoses: whether in DIY stores, discounters, specialty bathroom retailers, or online retailers. Perhaps you don't attach as much importance to quality and appearance as you do to your faucets, showers, or bathroom furniture. Nevertheless: If you already have the choice, it would be nice if the hose lasts a long time and fits harmoniously into the overall picture of your bathroom. Also lovely: when it can swing freely, so it doesn't buckle or twist. Something else you don't want when showering, bathing, or washing your hair: a shower hose that scratches or rubs against the skin. Or especially one that releases plasticizers (phthalates).
Good shower hoses are drinking water-certified.
If we could only make one recommendation, we would advise you: Get a shower hose that's drinking water-safe. When water rinses out harmful substances from inferior plastics, the fun of the bargain price ends. All hansgrohe shower hoses are suitable for drinking water. The premium brand uses only flawless, high-quality components and materials. With such quality hoses, the water only comes into contact with materials that are approved for drinking water. By the way, this also applies to good hand showers. 
Comfortable shower hose: Which length?
How long your shower hose has to be depends on several factors: Do you shower in the bath tub or shower cabin, standing or sitting? Are you tall, do you have a shower bar on which your shower head holder can be pushed far up? Does the shower hose hang on a deep-seated bath tub faucet or on a higher installed shower thermostat? Or does your water come directly from the wall (as with a concealed installation system)? Please consider your individual bathroom situation with regard to the length.
Commercial shower hose lengths are:
63 inches: The optimal dimension for the shower – creates freedom of movement and ensures comfortable showering pleasure.
80 inches: For plenty of free space when you shower (standing) in the bathtub. That way you can enjoy a generous shower height in spite of the low mounted faucet.
High-quality shower hose: Which material?
Durable shower hoses are made of robust, high-quality materials. If they aren't, they bend, become porous, get cracks or holes, and quickly leak. A leaking hose is a bad hose – and a water waster. In the past, the classic metal hose stood for high quality. Today, good plastics are also durable, and are softer on your skin, your ceramics, and are also easier to care for. Make sure above all that the shower hose is described as "kink-resistant" or "kink-protected." This prevents annoying water accumulation or premature wear and tear. Also, be sure to do the "scratch test" at the store: How does the shower hose feel on your skin? Steer clear of poorly processed surfaces and scraping materials!
On the subject of cleaning: Maintain your shower hose with a mild, commercially available bath cleaner. High-quality plastic hoses are easy to clean and hygienic because they have no grooves in which limescale and other residues can accumulate.
On sustainability: The material of shower hoses should be harmless and sustainable, i.e. recyclable.
Beautiful shower hose: Which design?
Whether a classic look made of metal or a modern look made of plastic: It's a matter of taste. For metal, we recommend using a shower hose with additional plastic coating – so that hairs or skin can't get pinched when showering. Hoses with chrome foil go perfectly with chrome showers and faucets. The shiny metal look blends timelessly and elegantly into your bathroom ambiance. The trendy metal spiral look made of plastic, which "faked" the classic metal hose, also creates visual highlights. If you like a more puristic look, choose a white hose. It looks fancy with white hand showers or tiles. Trending colors such as gold, green, blue, or red also set fresh, contrasting accents.
Matching shower hose: Which connections?
The beauty of a high-quality shower hose is that it can be easily screwed on and off. The exchange is so simple it's child's play. To ensure that your new hose combines the faucet and shower perfectly at home, please check the connection sizes before purchasing. The majority of shower faucets have a 1/2-inch thread, and most shower hoses are standardized on them (on both sides). Much rarer is the 3/4-inch thread. (Here's a tip: Connectors make these connections suitable for 1/2-inch hoses). Unsure? Then just unscrew your old hose and take it to the store. Also take a look at the quality of the connections and threads on the hose: An additional plus is a high-quality nut, for example made of brass. Also check that the two necessary seals are included in the packaging.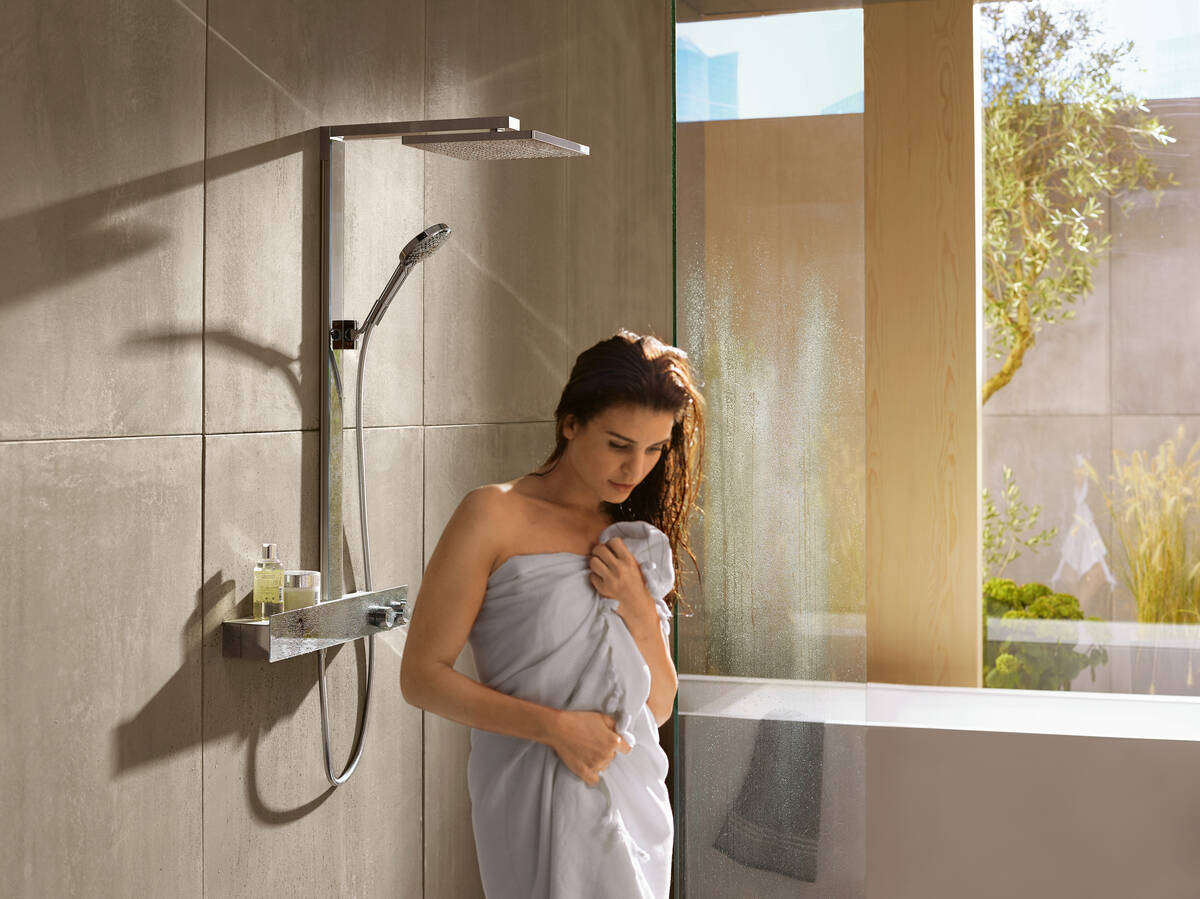 hansgrohe shower hoses: High-quality and well thought-out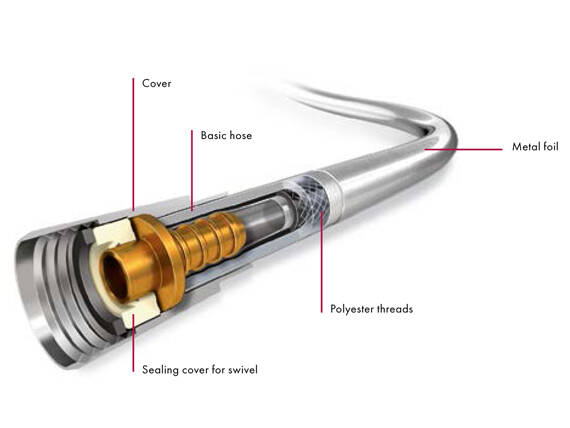 Technically ingenious, high-quality, and visually attractive: This applies not only to hansgrohe faucets or showers, but also to hansgrohe shower hoses. Most of our premium products are manufactured in the company's own factory in Southwestern Germany, so they are: "Made in Germany."
All hansgrohe shower hoses are:
drinking water-approved and phthalate-free;
kink-proof/kink-protected and tight;
hard-wearing and robust;
scratch-free and skin-friendly – thanks to plastic or plastic coating;
pressure- and tensile-resistant;
easy to clean and maintain;
standardized – connecting nut fits all hand showers;
easy to screw on and off;
sustainable, because they're recyclable. 
 
Sophisticated shower hoses with the right twist
The Isiflex Shower Hose is made with a plastic hose with metal optics and swivel, and is available in standard lengths of 63 or 80 inches. The models, made of robust plastic, are particularly flexible, meaning the hose hangs freely.
Do you still remember the analog days, with their knotted telephone cables? It can look similar with shower hoses, and it's annoying. However: Thanks to their 
"ball-bearing swivel,"
hansgrohe's Isiflex and Comfortflex hoses 
no longer have to get twisted
in the shower and bathtub. Why? The shower connection nut is designed in such a way that it can rotate freely. This way, the hose doesn't get entangled and interfere with your shower. The hose also hangs elegantly on the wallbar.
More than the norm: Shower hoses on the test bench
hansgrohe has been developing the design and functionality of shower hoses for over 40 years. Naturally, the hoses have all the key approvals that protect you as a consumer. Many of hansgrohe's innovations even far surpass the required standards – the premium brand simply has its own quality requirements. Every shower hose is put through its paces in stress tests. Should you have any reason for complaint: hansgrohe shower hoses have a voluntary guarantee of five years.
High-quality shower hoses decorate your bathroom
Authorised dealers
Locate showrooms of authorized dealers near you
hansgrohe Loading Dealer Options
An error has occurred. Please refresh the page.
Your search covers: USA and Canada