Like living in a tropical paradise
Unlimited comfort in a naturally designed bathroom with floor-level shower
A modern bathroom with rain shower and naturally spacious room design, where the fullness of the water-rich Tropics makes its appearance in everyday life. The open floor-plan erases boundaries and offers plenty of space that promotes comfort as well as efficiency. The centerpiece of the room is the shower system. It is richly varied, space-shaping and the source of pure water enjoyment.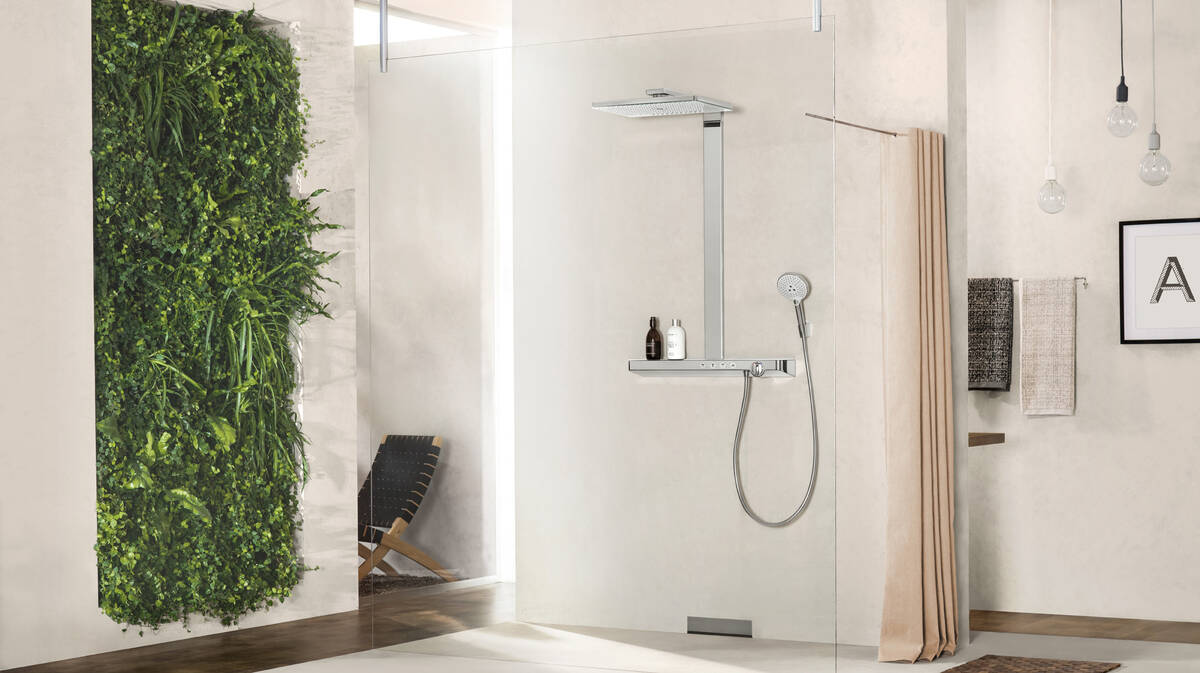 The lushness of the Tropics in a spacious bathroom
Generous freedom of movement in the modern bathroom with floor-level rain shower
Would you like to have a bathroom that serves as an oasis from the stress of everyday life? Treat yourself by relaxing and enjoying the feeling of gushing water from a rain shower in a beautiful, modern bathroom. With the open concept, you will have more room for a multifaceted wellness retreat. Green plants create a natural ambiance, while a relaxation zone with seating invites you to unwind. A ground-level shower additionally provides ease of movement. A versatile shower system is an inviting, space-shaping centerpiece with lush water enjoyment.
Sensual water experiences with the comfort of a large shower system
A rain shower emphasizes the lively flair of natural bathroom design. As a central element of an open concept room, the shower systems by hansgrohe create structuring accents. The Rainmaker Select shower pipe, for example, is one of the rain showers that use intelligent technology to provide ergonomic comfort and versatile water enjoyment. With its white-backed spray disc, the overhead shower integrates harmoniously into the ambiance. In combination with the chrome, slender frame, the design looks elegant and light.
Authorised dealers
Locate showrooms of authorized dealers near you
hansgrohe Loading Dealer Options
An error has occurred. Please refresh the page.
Your search covers: USA and Canada