Non-pressurized water heaters
Low-pressure faucet – The perfect kitchen faucet for your open boiler
Faucets for open, non-pressurized water heaters – also known commonly as low-pressure faucets – are mandatory when the connection is made to a non-pressurized heater and not to the central hot water supply. Low-pressure faucets are matched to the technical requirements specific to an open water-heater system.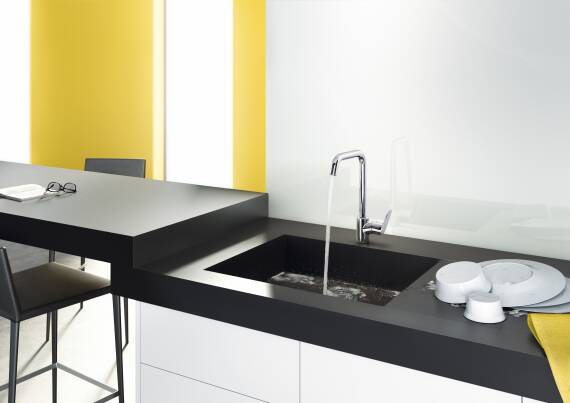 How does a low-pressure faucet work?
Low-pressure faucets are absolutely essential on non-pressurized water heaters. They're available for the kitchen and for the bathroom.
In these faucets, the spout remains constantly open. Opening the faucet results in cold water flowing into the boiler, which then forces the hot water upwards. In this way, the low-pressure faucets react to water expansion in each heating phase (non-pressurized system) by allowing a drip overflow. If an open water heater is combined with a standard kitchen faucet, then damage is caused to the boiler: Conventional kitchen faucets block the spout completely when closed and do not allow for any overflow.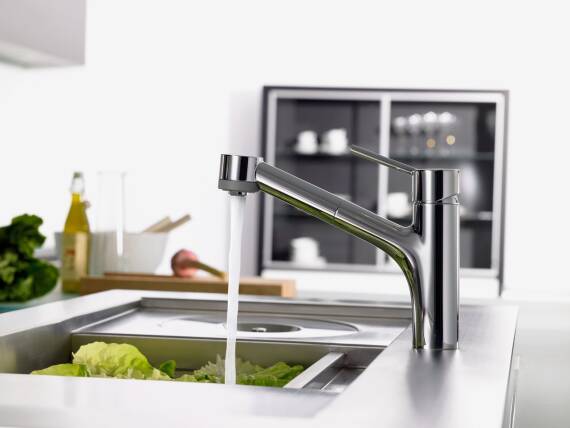 Where are low-pressure faucets used?
There are different faucets to choose from for open, non-pressurized water heaters are available for the sink – including versions with a hand spray or swivel spout.
In the bathroom combinations are often used featuring an open hot water reservoir.
Technical data, dimensional drawings, installation manuals and service instructions as well as helpful videos can be found in our electronic Spare Parts Shop. 
Selection of low-pressure faucets for the kitchen
Authorised dealers
Locate showrooms of authorised dealers near you
hansgrohe Loading Dealer Options
An error has occurred. Please refresh the page.
Your search covers: USA and Canada