hansgrohe ComfortZone test
Find the perfect combination of faucet and sink
Are you looking for a faucet for your sink, or is it the other way around? If you have a hansgrohe faucet and want to know which ceramics fit, this page will give you tips on finding the perfect one. To help you enjoy the greatest possible comfort at home, you can find ideal combinations of faucets and sinks here. Tested by hansgrohe for perfect water moments when washing hands, hair, and more.
Harmony at the vanity: Here's how everything fits together, functionally and aesthetically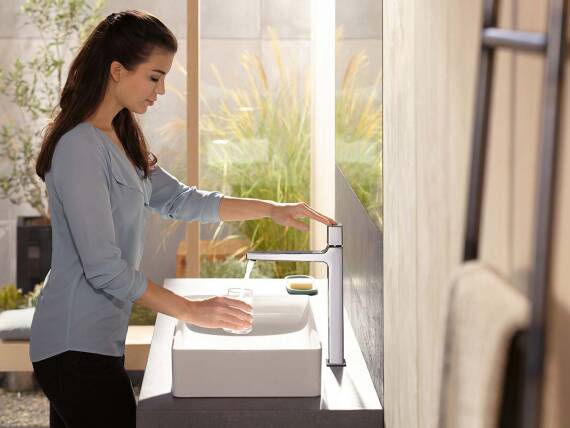 Whether you want to freshen up your bathroom a bit, completely renovate or build anew. Whether you buy the faucet or the ceramics first: The question is: What fits together?
For optimal combinations of faucets and sinks, please refer to the PDF files that we provide here free of charge. With the dream duos we have identified, you will enjoy plenty of space, harmonious design and wonderful water experiences day after day.
Don't leave anything to chance in your bathroom 
A flat sink with a high faucet or a vanity in which water lands at the wrong angle can lead to splashing. If the faucet is too low this unnecessarily limits your space at the sink. Because hansgrohe wants everything to feel and look good in your bathroom, we look beyond the edge of the sink and test our faucets with ceramics provided by different manufacturers.
More than 12,000 tested combinations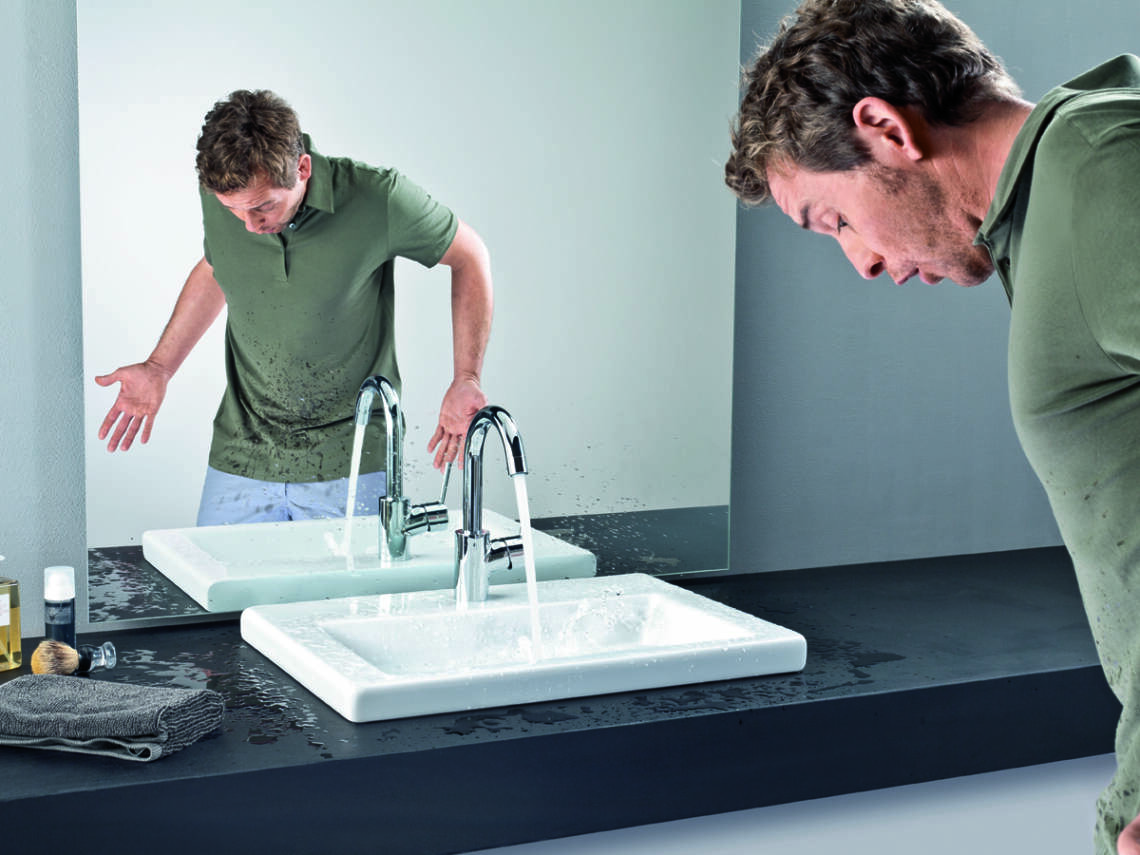 hansgrohe has developed a profound testing method to rule out water splashes, awkward designs and a loss of comfort from the outset. The "hansgrohe ComfortZone Test" guarantees you the perfect combination of faucet and sink. Sanitation professionals working in realistic conditions test to see whether our faucets are compatible with standard sinks from leading manufacturers. To keep you on track, visually and functionally.
Here's how hansgrohe tests 
In your planning, choose from our wealth of knowledge: More than 12,000 faucet-sink combinations have already been tested at the hansgrohe Test Center. The comprehensive functional tests examine, among other things, the freedom of movement at the vanity as well as splash behavior.
Here's how the ComfortZone Test works:
Freedom-of-movement test. Does the combination offer enough usable space? Here, a test ball is positioned between the faucet and sink to determine whether comfortable hand washing is possible.
Splash test. Does water splash when the faucet is turned on? In this case, the faucet is opened and closed at different water pressures. The splashes are evaluated.
Practice test. Does water splash during hand washing? A standardized hand model is moved back and forth beneath the water jet. The splashes outside the sink are evaluated.
Tested and recommended: optimal combinations at the vanity
Found what you were looking for? If you have decided for a functioning duo using the hansgrohe test tables, please take your desired combination along to the retail partner. Only he or she can properly assess whether the dimensions and technical requirements meet the on-site requirements. After all, there's no point in having the most beautiful combination if the available space, connections or water pressure don't fit. All of these requirements must be met to guarantee correct installation.
Authorised dealers
Locate showrooms of authorized dealers near you
hansgrohe Loading Dealer Options
An error has occurred. Please refresh the page.
Your search covers: USA and Canada