12/06/2017
New brand website www.hansgrohe.de
The hansgrohe premium brand has a new website. When it comes to development and design, the makers place the focus on their customers' desires. With inspiring tools, emotional images and informative contributions, they quickly discover what they like in the bathroom and kitchen. And how they can use high-quality products to create an individual home where they will feel comfortable for many years to come.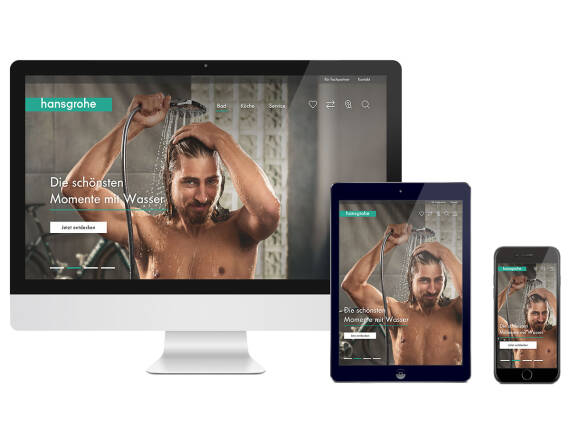 User-friendly, inspiring, emotional
When it comes to furnishings, the kitchen and bathroom are very interesting living spaces. Effective immediately, the premium brand hansgrohe helps its customers, as well as specialist partners such as sanitation professionals, planners and architects, with a completely redesigned website: www.hansgrohe.de.
Inspiring product pages, creative applications such as the Dream Bathroom Finder and informative service areas including the Bathroom Guide or Kitchen Guide help users discover their own personal favorite products from among the abundance of products on offer. There are also pages featuring trends and new products that invite visitors to fresh designs of the bathroom and kitchen. This way, design enthusiasts can create attractive and highly functional islands wellness in the home. From the comfort of their own sofas.
Immerse yourself in stunning worlds of products from your computer, tablet or smartphone
It's not just the premium products of the iF design leader for the sanitation industry that invite users to surf the new brand website. It's also the site's user-friendliness, service orientation and optimal design for mobile devices. Take the Dream Bathroom Finder, for instance: The page takes the visitor's personal preferences and generates style and furnishing suggestions: from extravagant to natural-comfortable to classic-elegant. The stunning results can be admired on stationary computers, tablets or mobile phones. Dreaming is also extremely comfortable when away from home.
Informative website with lots of service for bathroom and kitchen planning
In addition to inspiration and entertainment, the service places the focus on planning: The Bathroom Guide, for instance, offers the right showers, faucets, control units or technologies for everyone with an interest in refurbishing, building or rejuvenating their homes. The Kitchen Guide offers excellent product solutions around the sink, the heart of the kitchen.
So "www.hansgrohe.de" informs consumers and professionals alike with in-depth expertise they can use. The hansgrohe Shopfinder shows you the way to the nearest professional retailer. The GPS-supported Shopfinder is especially handy on the smartphone. The new hansgrohe website is complemented by information about the company itself: the Hansgrohe Group, its values and career opportunities.
hansgrohe Loading Dealer Options
An error has occurred. Please refresh the page.
Your search covers: USA and Canada
Where to Buy: Online Resellers
Certified Online Resellers
You can purchase hansgrohe products through the following Certified Online Resellers:
Authorized Online Resellers
You can purchase hansgrohe products through the following Authorized Online Resellers: